THE ARTIST
Rosemarie Trockel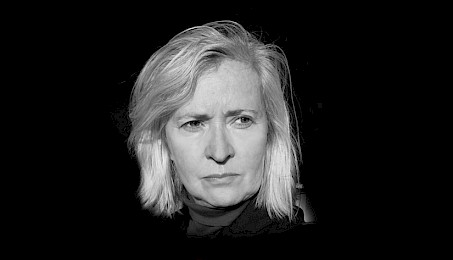 Rosemarie Trockel (*1952, Schwerte) is one of the most important and influential conceptual artists and regards her art as an unstable aggregate of form and concept. By deploying this radical instability her artworks dismantle a range of cultural categories, rules and dogmas.
Sculptures, collages, ceramics, knitted works, drawings and photographs are noted for their subtle social critique and range of subversive, aesthetic strategies—including the reinterpretation of "feminine" techniques, the ironic shifting of cultural codes, a delight in paradox, and a refusal to conform to the commercial and institutional ideologies of the art system. Her oeuvre is fueled both materially and conceptually by a constant process of collecting, overwriting and re-ordering.
She had her first gallery shows in 1983 with Monika Sprüth, Cologne and Philomene Magers, Bonn. Her recent solo exhibitions include The same Different at Moderna Museet Malmö (2018/19) and Märzôschnee ûnd Wiebôrweh sand am Môargô niana më at Kunsthaus Bregenz (2015). A Cosmos was presented at Museo National Centro de Arte Reina Sofia, Madrid, the New Museum New York and Serpentine Gallery London, her Flagrant Delight at Wiels Brussels, Culturegest Lisboa and Museion Bozen (all in 2012/2013). Her 2005 retrospective Post-Menopause took place at the Museum Ludwig Cologne and at Maxxi Rome. In 1999 she became the first female artist to represent Germany at the Venice Biennial, and in 1997 she was invited to the documenta X at Kassel. In 2011 she was awarded the Kaiserring Goslar, 2014 the Roswitha Haftmann Price in Zürich.
»RT – the initials of the first perfume release by the artist scent edition. 
The opportunity to start our new project with Rosemarie Trockel was both a fortunate and an obvious coincidence. It was our first thought to work with Rosemarie. In fact her immediate curiosity about our idea marked the beginning of the artist scent edition. This experience will remain as a gift forever.« the artist scent edition
Next Artist
Pierre Huyghe
Scent will be launched in autumn 2022.